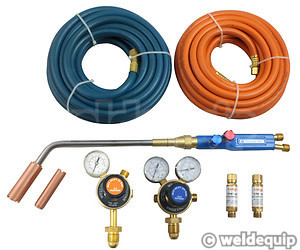 Oxy/Propane Heating Set
Oxy/Propane Super-Heating Equipment
For all Industrial & Workshop Heating Applications
Up to 600,000+ Btu/hour Output*
Premium Quality British Made
Cutting with optional attachment
Guaranteed Safe!
£ 198 (inc VAT)

Oxy/Propane Heating Set
£198
(inc VAT)
*360,000 Btu/hour from nozzles supplied – range of larger nozzles available.
Premium quality British made gas hand equipment for industrial & workshop heating applications using Oxygen & Propane gas cylinders (not supplied).
Employing the 'Super-Heating' propane gas mixer, stainless steel heating neck, and H Series Super-Heating nozzles fitted on to a standard Type 5 heavy duty gas torch. Ideal for rapid heating of larger areas, weld pre-heat etc.
Cutting of up to 150mm (6") mild steel can also be performed with the optional Cutting Attachment, and a range of other accessories are available to make up a very versatile, heavy duty gas Heating, Cutting & Brazing set.
Gas regulators are standard connection for portable & industrial size Oxygen & Propane gas cylinders.
Not suitable for use with Acetylene.
Supplied with
WESCOL Single Stage 2 Gauge Oxygen Gas Regulator 0-10 Bar Output
WESCOL Single Stage Propane Gas Regulator 0-3.5 Bar Output fitted with Output Pressure Gauge
WESCOL Flamestop® Flashback Arrestor Oxygen
WESCOL Flamestop® Flashback Arrestor Propane
WESCOL Model 90 Type 5 Welding Shank
Super-Heating Propane Mixer
270mm Stainless Steel Heating Neck
2H Super-Heating Propane Nozzle 100,000 – 188,000 Btu/hour
3H Super-Heating Propane Nozzle 183,000 – 360,000 Btu/hour
5 Metre x 8mm Bore Fitted Hose Set
Safety Goggles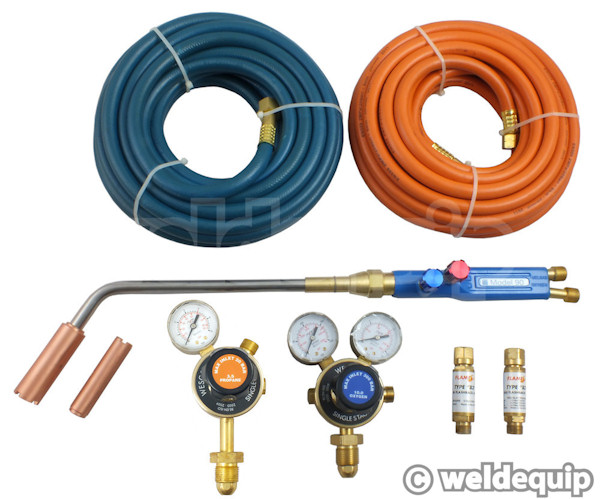 There are no items in your shopping cart