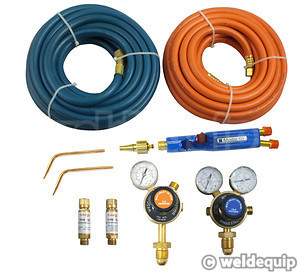 Oxy-Propane/Propylene Brazing Equipment Set
For Brazing, Soldering & Heating with Oxy/Propane/Propylene
Standard connection for portable & industrial gas cylinders
Premium Quality British Made
Guaranteed Safe!
£ 169 (inc VAT)
Invaluable equipment to have in any workshop, this set is designed to be used with readily available, economical Propane or Propylene fuel gas and standard refillable type Oxygen cylinders - both portable & industrial sizes.
Ideal for a wide variety of tasks including Brazing (not full fusion welding), Silver Soldering, Bending, Forming… or just freeing off that seized component that you cannot shift with a monkey wrench!
The two nozzles supplied offer a good heat range for silver soldering & general light duty brazing work, and the larger nozzles available provide extra volume for more demanding work such as copper & general heating applications. The optional Heating Attachment gives more heat volume again, and a much wider flame area, so is good for rapid heating of larger components.
Highest quality British Made industrial equipment throughout.
Not suitable for use with Acetylene.
Supplied with
WESCOL Single Stage 2 Gauge Oxygen Gas Regulator 0-3.5 Bar Output
WESCOL Single Stage Propane Gas Regulator 0-3.5 Bar Output fitted with Output Pressure Gauge
WESCOL Flamestop® Flashback Arrestor Oxygen
WESCOL Flamestop® Flashback Arrestor Propane
WESCOL Model 65 Lightweight Brazing Torch
P65 Propane Brazing Nozzle No.3
P65 Propane Brazing Nozzle No.7
5 Metre x 6mm Bore Oxy/Propane Hose Set fitted with 1/4" Double Safety Check Valves
Safety Goggles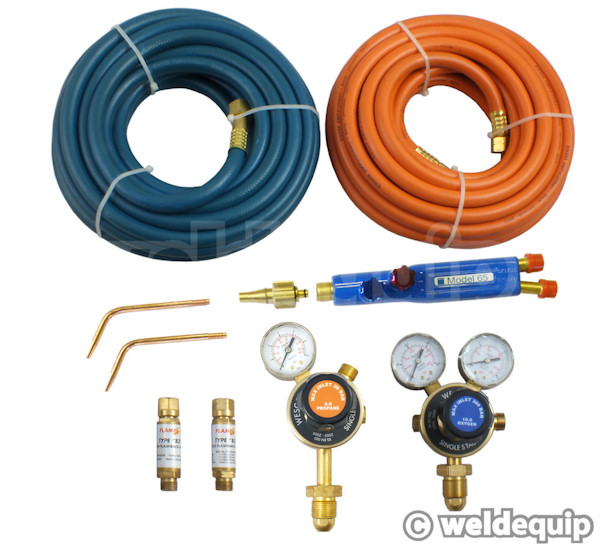 There are no items in your shopping cart