We would like to thank all our customers for your support and wish you all the best for Christmas & the New Year.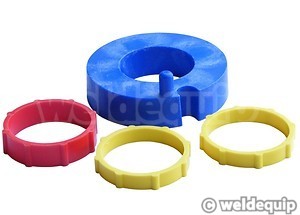 5kg MIG Wire Spool Adaptor Kit
For fitting 5kg wire spools on 15kg spool holders
Allows precise wire alignment
Universal kit for most machines
This kit allows you to use medium size 5kg spools of MIG wire on standard 15kg industrial spool holders. 15kg size wire spools are approximately 100mm wide & 5kg spools just 60mm wide, so they can slide around on the spool holder without some form of spacer or adaptor, causing all kinds of wire tangling problems.
This kit keeps the 5kg spool positively fixed on a rear locating peg, keeping tension on the spool to prevent wire 'over-run'.
A selection of spacers are provided so you can position the 5kg spool precisely on the spool holder for the very best wire alignment and a smooth, trouble free wire feed.