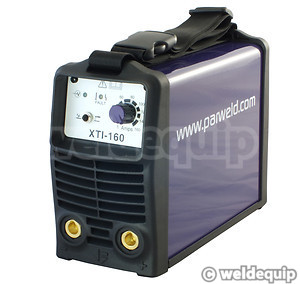 Parweld XTi 160 Inverter Arc Welder
5-160 Amp DC Inverter Arc Welder
230v Single Phase
Lift-Arc TIG Facility
Quality Site Case, Shoulder Strap & Leads Included
2 Year Warranty
£ 197 (inc VAT)

XTi 160 Inverter TIG Kit
£63.90
(inc VAT)
Includes TIG Torch Assembly & Industrial Argon Gas Regulator
2.5mm (60-100 Amps) Mild Steel Rods 2.5Kg Box
£7.60
(inc VAT)
3.2mm (85-130 Amps) Mild Steel Rods 2.5Kg Box
£7.60
(inc VAT)
The latest IGBT Inverter technology with built in automatic Arc Force, Hot Start and Anti-Stick give the Parweld XTi 160 superb arc characteristics; very easy to use, with minimal spatter and a lovely smooth weld with electrodes up to 4.0mm diameter.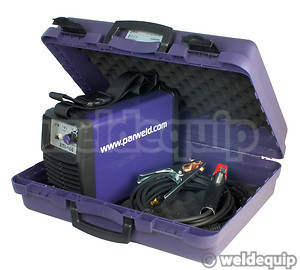 Rated at 16 amps fuse supply to obtain it's maximum 160 Amps output, we managed to run a 4.0mm 6013 electrode at 140 Amps from a standard 13 amp supply without any problems. Other machines from the same factory, under different badges, require a 25 amp+ fused supply to be able to run at maximum power.
A protective ABS chassis prevents damage caused by drops & knocks, and it is supplied with a very substantial site case as standard. The entire kit, including machine, 3 metre lead set & site case weighs just over 10kg (machine only weight just over 6kg) so it is ideal for mobile maintenance & repair work etc.
It can also be operated from most Generators (AVR Stabilized - 6kVA) and extended mains cables.
TIG
With the addition of a TIG Kit and suitable Argon gas supply, the machine can be used for basic TIG welding of most ferrous metals. The toggle switch on the front control panel sets the machine to Lift-Arc TIG - which is superior in operation to scratch-start TIG - and a 5 Amps start current provides very fine control.
Supplied With

3 Metre Lead Set with 200 Amp Electrode Holder, 200 Amp Earth Clamp & 35-50mm Dinse Plugs
Machine Shoulder Strap
Robust Site Case
Technical Specification
Supply Voltage: 230V +/-15%
Output Current Range: 5A - 160A
Max OCV: 60V
Duty Cycle @ 25C: 60% @ 160 Amps, 100% @ 135 Amps
@ 40C: 25% @160 Amps, 100% @ 80 Amps
Electrode Sizes: 1.6 - 3.2mm, 4.0mm Max
Dimensions: 320mm L x 140mm W x 290mm H
Weight (machine only):6.20kg
Weight (inc site case & leads):10.35kg
Protection: IP23S
Standards of Conformance :ISO/IEC60974-1, ISO/IEC60974-6, CE RoHs WEEE
Warranty: 2 Years