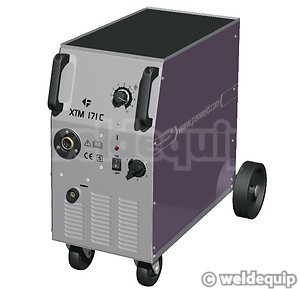 Parweld XTM 171C MIG Welder
30 - 170 Amps
230v single phase
Euro-Torch assembly
Dual purpose Gas or Gas-less operation
Wheel mounted with gas cylinder carrier
The XTM 171C from Parweld has much the same specification as the smaller 161C model but is housed in a larger wheel mounted cabinet to accommodate refillable gas cylinders. The chassis is designed to accept the smaller & 'half size' refillable gas cylinders -not the full size industrial gas cylinders -so is perfect for home workshop users, garages & small fabrication shops that want a self contained, mobile MIG set capable of welding up to around 6mm mild steel.
Copper wound transformers and triple smoothing capacitor bank give it a nice smooth arc and it will operate from a 13 amp fused supply up to number 5 of it's 6 voltage settings. On the highest setting 6 it will blow a 13 amp fuse and requires a 16 amp supply.
Supplied with:
Parweld 3 metre Euro-Torch assembly
Industrial 2 gauge Argon gas regulator for refillable gas cylinders
3 Metre earth cable & clamp
4 Metre mains input cable
3 Metre gas hose & fittings
12 Month Warranty
You will need a refillable Argonmix gas cylinder and wire, or reel of gas-less flux cored wire to be up & running.
Specifications
Input Voltage: 230v/50-60Hz
Output Range: 30Amps – 170Amps
Weldable Range (Mild Steel): 0.8mm – 6.0mm
Wire Spool Sizes: 5kg (requires adaptor) - 15kg
Duty Cycle: 125 Amps @ 30%, 80 Amps @ 60%, 65 Amps @ 100%
Voltage Steps: 6
Dimensions: 820mm long x 400mm wide x 630mm high
Weight: 38kg
Protection Class: IP23
Standards: EN/EC 60974-1, CE, EMC, RoHS compliant
Related Products