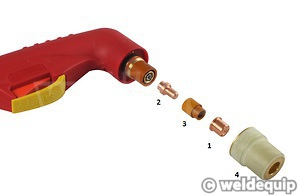 IFL Cut 40 Plasma Torch Parts
Front-end torch parts for the IFL Cut 40 Plasma cutter
Fast, low cost delivery
From £ 5.90 (inc VAT)

IFL Cut 40 Plasma Swirl Ring Assembly Pack 2
£5.90
(inc VAT)
No.3 in the diagram
Sorry, this product has sold out.

IFL Cut 40 Plasma Torch Parts Set
£22.25
(inc VAT)
12 Piece set contained in a handy plastic storage case: 5 x Cutting Tips, 5 x Cutting Electrodes, 2 x Swirl Rings
Replacement front-end torch parts to fit the Cut 40 & new i-TECH Cut 40 models from Inverter Fusion Ltd.
Rapid, nationwide delivery from stock.