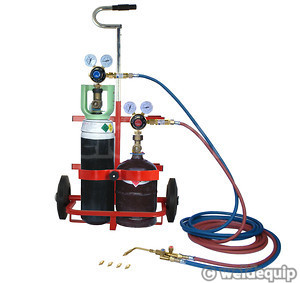 Lead Burning Kit Model O Portapack Pro
Premium Quality British Made Equipment
Everything you need apart from the oxy-acetylene cylinders
Available with or without portable gas cylinder trolley
Ideal for Roofing Contractors & extremely fine welding/brazing applications
From £ 249 (inc VAT)

Portapack Model O Microset with Portable Cylinder Trolley
£289
(inc VAT)
Using the ever popular Model O Torch these sets are ideal for Lead Welding or other extremely fine applications such as Jewellery, Electronics, Dental etc. up to 1.5mm.
High quality UK Made equipment throughout, choose a complete set with a trolley for portable gas cylinders (see below for sizing) - ideal for mobile applications such as roofing - or equipment set only for connection to larger sizes of Oxy-Acetylene gas cylinders in the workshop.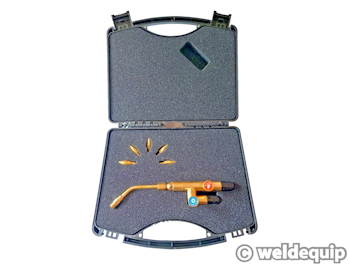 Supplied with
WESCOL Model O Microset torch in fitted case with 5 nozzles
WESCOL 2 gauge Oxygen gas regulator 0-4 Bar output
WESCOL 2 gauge Acetylene gas regulator 1.5 Bar output
WESCOL Flamestop Flashback Arrestor for Oxygen
WESCOL Flamestop Flashback Arrestor for Acetylene
Quality fitted hose set with 1/4" BSP safety valves - 5 metres x 6mm bore
Portable gas cylinder trolley with collapsible handle & rod tube storage
Safety goggles

Improved version gas cylinder trolley has solid rubber tyres, collapsible handle for easier storage in vehicles and handy rod tube storage. A height adjustable cylinder clamp accommodates both BOC Size E & K (Flamepack 10) and Size X & M (Flamepack 20) portable oxy/acetylene gas cylinders (NOT the 'half-size' Flamepack 50 type). Other leading gas suppliers portable cylinders will also fit.

:
Also Available:
There are no items in your shopping cart