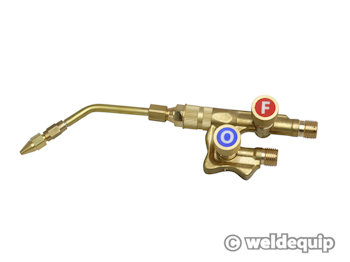 Model O Lead Welding Torch
UK Made
Supplied with Case & full set of Nozzles
£ 109 (inc VAT)
Classic Model O type blowpipe used for Lead Welding & other extremely fine applications such as Model Engineering, Jewellery etc; this is the only torch now made in the UK.
The main valve body has been completely redesigned with an ergonomic, comfort grip and is manufactured from a single brass forging for increased strength. Nicely balanced, the entire torch weighs just 310g.
Solid Control Valves are insensitive to knocks during use for perfect flame stability, and have stainless steel valve spindles for leak free operation.
Supplied in a fitted case with the full set of 5 nozzles.
Gas hose connections are industry standard 1/4" BSP and the nozzles interchange with most other Model O torches.
Manufactured to BS EN ISO 5172

There are no items in your shopping cart