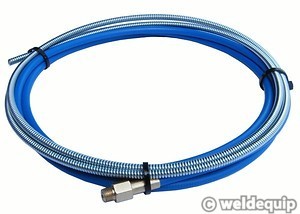 Clarke Hobby MIG Torch Liner
2.5m HD steel torch lining
Fits all Clarke MIGs up to 165TE
A blocked torch liner is one of the most common causes of annoying wire feed trouble. It should be replaced periodically to ensure a smooth, consistent wire feed. Generally, you can tell when it's time to replace the liner when the wire keeps shooting back to the copper contact tip, even when the wire feed speed is increased.
Now standard fit on Clarke hobby MIG torches, these HD steel liners can give considerable wire feed improvements in comparison to the black PVC type liners.
*Rusty welding wire is also a very common cause of wire feed problems so when replacing torch/neck liner also replace the welding wire if it is rusty, otherwise you will quickly block the new liner and be back to square one!
Related Products
There are no items in your shopping cart