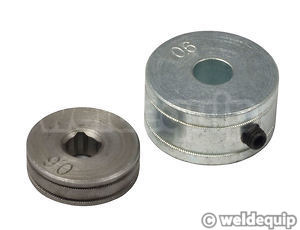 Clarke MIG Wire Feed Rollers
Replacement wire feed rollers for Clarke MIG welders
Two types available to fit most of the Clarke range
Fast delivery from stock
From £ 7.95 (inc VAT)
Badly worn wire feed rollers can cause wire slippage & annoying feed problems. We stock two types that cover most of the range of Clarke MIG welders, past and present:
30mm Type has a circular shaft mount (secured by a grub screw) and will fit models: 110E, 110EN, 130EN, 135TE, 151TE, 160EN, 160T/TE/TM, 165TE, 175TE, 195TE, 205TE, 230TE.
25mm Type has a square shaft mount and will fit models: 85ENB, 85ENC, 90EN, 100EN, 105EN, Pro 90, 100E, 150TE.
*Please do check the dimensions before ordering as different wire feed units are now used on the same model machines.
OEM Genuine parts.
There are no items in your shopping cart