We are currently closed for the February Half-Term and will be accepting orders again from Monday 18th Feb.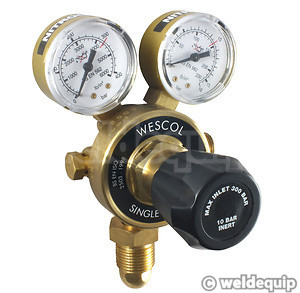 Nitrogen Gas Regulator
Wescol Single Stage 2 Gauge
Purging & Pressure Testing etc.
0-10 Bar Output
Premium Quality British Made
Guaranteed Safe!
Sorry, this product has sold out.
Single Stage 2 gauge Nitrogen gas regulator suitable for purging & pressure testing up to 10 Bar maximum.
Twin pressure gauges showing cylinder contents and output pressure, calibrated in Psi & Bar.
Standard 5/8" Bsp right hand gas cylinder connection
3/8" Bsp right hand gas hose connection
300 Bar maximum inlet pressure
0-10 Bar maximum outlet pressure
BS EN ISO 2503
Also See
High Pressure Nitrogen Regulator for applications above 10 Bar output pressure.
Safety First

Cylinder gases are stored under ever increasing high pressures and can be extremely dangerous, so the regulator needs to be up to the job. Some of the cheap, imported gas regulators on the market have been shown to fail catastrophically in laboratory safety tests.
WESCOL have been manufacturing gas regulators in the UK for over half a century. These regulators meet all international safety standards, and are proven the world over.