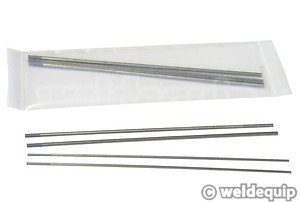 TIG Tungsten Electrodes - Hobby Pack
Multi-Purpose Ceriated (Grey Tip) Tungsten Electrodes
Suitable for both AC & DC use
Small pack for small jobs
A small pack of two 1.6mm and two 2.4mm Tungsten electrodes - the most commonly used sizes for hobby/maintenance use.
Ceriated (grey tip) make them suitable for both AC & DC TIG welding so they are a versatile, all round electrode suitable for all TIG welding applications without having to worry about selecting the correct Tungsten for the material being welded.
Quality manufactured by Parweld, with a fine grain structure and annealing to prevent splitting & weld contamination.
Standards:
BS EN 26848:1991
ISO6848:1984
Electrode Size Guide
| | | |
| --- | --- | --- |
| DC AMPS | TUNGSTEN SIZE | AC AMPS |
| 75-150 | 1.6mm | 60-120 |
| 150-250 | 2.4mm | 100-180 |
| 250-400 | 3.2mm | 160-250 |
There are no items in your shopping cart