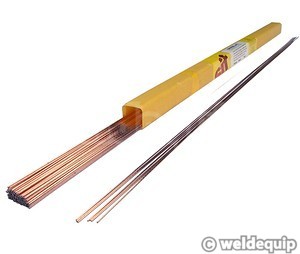 SIFsilcopper No.968 (C9) TIG Brazing Rods
Low temperature copper alloy TIG rods
1 kg maintenance packs
1.2mm, 1.6mm & 2.4mm diameters
From £ 49.15 (inc VAT)

Sifsilcopper No.968 1kg 1.2mm
£56.55
(inc VAT)
Approx 110 rods x 1 metre long

Sifsilcopper No.968 1kg 1.6mm
£54.30
(inc VAT)
Approx 60 rods x 1 metre long

Sifsilcopper No.968 1kg 2.4mm
£49.15
(inc VAT)
Approx 28 rods x 1 metre long
A copper rod, containing 3% silicon and 1% manganese used for fusion welding materials of similar composition, copper alloys (brass) and for TIG brazing steels. It is also suitable for surfacing steel and dissimilar metal applications.
Sifsilcopper No.968 has a much lower melting point than standard A15 mild steel TIG wire and requires only around half the welding current, so is ideal for applications where distortion can be a problem. The speed of operation is also nearly twice as fast as welding, so joining times can be halved and post weld treatment minimised.
Typically used on galvanized steel in the heating & ventilation industry, tubular product fabrication and marine/offshore industries because of it's corrosion resistance. Also popularly used for TIG brazing cast iron, brass & bronze. Can also be used with Oxy/Acetylene for fusion welding of copper alloys (use SIF Sil copper flux powder).
Material data sheet supplied with each pack.
BS: 2901 C9
EN: 14640 Cu 6560 (CuSi3Mn1)
ISO: 24373 Cu 6560 (CuSi3Mn1)

There are no items in your shopping cart