We are currently closed for the February Half-Term and will be accepting orders again from Monday 18th Feb.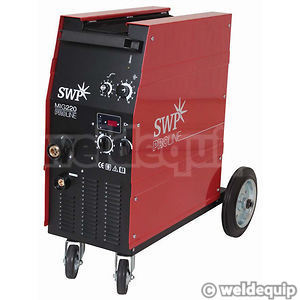 SWP MIG 220 Welder
220 Amps 230v Single Phase
Professional Line - Manufactured in Europe
Now fitted with 4x4 Wire Feed as standard
2 Year Comprehensive Warranty
Next Day Delivery
£ 718 (inc VAT)

0.6mm/0.8mm Wire Feed Roller
£16.85
(inc VAT)
TWO required (0.8mm/1.0mm rollers supplied with machine)
Specialised Welding Products Professional Line (orange casework) of European built MIGs have a proven track record for reliability and excellent weld performance throughout their voltage range, with a lovely smooth arc condition; weld from the thinnest materials like car bodywork up to more demanding tasks such as wrought iron work etc.
The 220 model is ideal for professional garage workshops, maintenance & light fabrication jobs, heavier home workshop use etc.
Features include:
Quality wire feed assembly - All metal, geared wire feed with a good sized motor for positive wire feeding and uniform welds; now updated to a 4x4 system for even better performance.
Soft-Arc technology - Quad plate rectifier & smoothing capacitor bank give a lovely, smooth arc condition. Welds from just 15.5 Volts so performs brilliantly on very thin sheet metal.
12 Voltage settings for fine power control with a large, heavy duty selector switch fitted as standard.
Fully copper wound transformer & choke with twin-fan cooling system and 3 year warranty cover
Electronic spot-weld timer for consistent, repeat spot/plug weld results
Heavy duty (and we mean heavy!) rear wheels & front castors so the machine can be manoeuvred easily across uneven floors.

Supplied with:
3 Metre MB25 Type Euro-Torch Assembly
Twin Gauge Industrial Argon Gas Regulator
3 Metre quick-connect Earth Lead Assembly
Comprehensive 2 Year Warranty Cover
3 Year Main Transformer/Choke Warranty
Technical Specification:
Amps Range: 30A/15.5V – 220A/25.0V
Supply Voltage: 230V Single Phase
Input Fuse: 25A @ Maximum 220 Amps (13/16A on lower ranges)
Duty Cycle @ 20%: 190 Amps
Duty Cycle @ 60%: 100 Amps
Duty Cycle @ 100%: 70 Amps
Voltage Steps: 12
Weldable Wire Sizes: 0.6mm – 1.2mm
Wire Spool Sizes: 5kg (requires adaptor) - 15kg
Weight: 60kg
Dimensions: 830mmH x 302mmW x 780mmL
Protection: IP23S