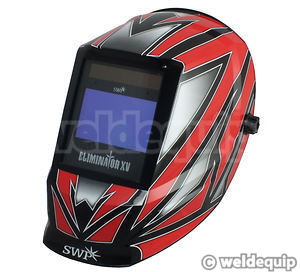 SWP Eliminator XV 9-13 Pro Auto Darkening Welding Helmet
XL Lens area - 50% taller than standard sizes
Clear Grinding mode
2 x twin sensors for increased arc detection
Replaceable battery for extended LCD cartridge life
Suitable for TIG, MIG & ARC welding
Accepts Magnification Lenses
2 Year Warranty
Sorry, this product has sold out.
All new 'XV 9-13 Pro' model of the popular Eliminator Autoshield from Specialised Welding Products has a host of class leading features for the money.
Optical viewing area has been increased from the standard 96mm x 42mm to 100mm x 60mm for much improved field of vision, and a secondary set of sensors have been added for better arc detection when doing low amp TIG work or positional welding. Switching speed is a lightning fast 0.08ms, with an excellent optical class of 1/1/1/2.
The filter unit also has a Grinding function, with visible LED warning light when set to clear mode. A Low Battery LED light is also fitted. All controls are located internally on the ADF unit to prevent any external damage caused from knocks, and include fully variable Shade, Sensitivity & Delay settings. Solar Cell powered with 2x replaceable lithium batteries.
2 year warranty on the filter unit.
Specifications
XL Viewing Area: 100mm x 60mm
Clear Grinding mode
Solar cell powered with 4x optical sensors
Lithium battery back-up (replaceable) with internal LED to indicate replacement
Optical Class: 1/1/1/2
Switching Time: 0.08ms
Suitable for TIG, MIG/MAG & MMA processes
Fully variable shade control DIN 9-13 (internal adjustment)
Fully variable Sensitivity & Delay control
Weight 585g
2 Year Warranty on filter unit
Standards: CE, EN379, EN175, ANSI Z87.1, CSA Z94.3
Related Products
There are no items in your shopping cart