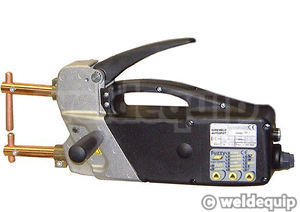 Spot Welder Sureweld Auto-Spot M230F
Portable Resistance Welding Machine
2+2mm Capacity on Mild Steel
Electronic Timer & Current Control
Continuous or Pulsed Operation
230v Single Phase
2 Year Warranty
For higher capacity spot welding, the Autospot M230F model from Sureweld will handle 2mm + 2mm mild steel sheets and features a "Fuzzy Logic" microprocessor control panel. This 'Intelligent' control panel allows you to enter the material thickness and sets the welding timer & current automatically, taking the guess work out, and ensuring exact results each time.
Set up in two easy steps: Simply enter continuous or pulsed mode, material thickness, and the machine will do the rest! The factory default on the electronic timer can also be over-ridden for finer control.
Supplied with 120mm long arms as standard.
Sureweld are Resistance Welding specialists so offer excellent technical back-up, with a comprehensive 2 year warranty and full range of spares & accessories available.
*Requires a 25 Amp 230v Supply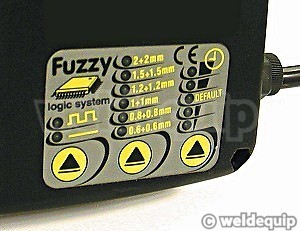 Technical Specifications
Supply Voltage: 230v
Mains Fuse Required: 25 Amp
Welding Current: 6300 Amps
Rated Power @ 50%: 2.3 kW
Maximum Power: 13 kW
Capacity on Mild Steel: 2mm + 2mm
Duty Cycle: 3 Spots per minute
Dimensions: 440mm long x 110mm wide x 185mm tall
Weight: 11.3 kg
2 Year Warranty Cover
There are no items in your shopping cart