We are currently closed for the February Half-Term and will be accepting orders again from Monday 18th Feb.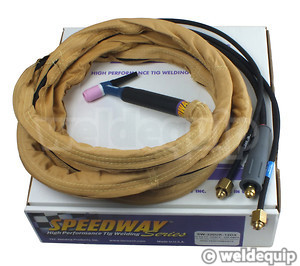 WeldTec® Speedway® SW320 TIG Torches
320 Amp Water Cooled
Accept standard 250 Amp WP20 front end consumables
UK Fittings
Full range of service parts from stock
From £ 230 (inc VAT)
WeldTec® Speedway® SW320 Deluxe Torch Packages include: Torch body, handle, ultra-flexible over braided rubber cable assemblies, premium leather cable cover and accessories pack. Choose standard or Switched versions in 12.5ft or 25ft lengths. Cable connections are standard UK 3/8" BSP.
Specifications
Maximum Amperage Capacity: 320 Amps AC-DC
Weight (Torch Body and Handle): 84 grams
Tungsten Capacity: 0.5mm – 4.0mm
Cooling Requirements: .946 L/min
Coolant Pressure: 50psi
Printable leaflet available here