We are currently closed for the February Half-Term and will be accepting orders again from Monday 18th Feb.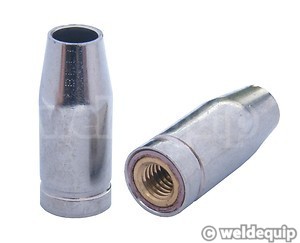 SIP & Sealey Type Hobby MIG Torch Gas Shrouds
Screw-on, insulated gas shrouds
Pack of 2
Suitable for most SIP hobby MIG torches: Migmate, Topmig 150, and Sealey hobby MIG torches - Mightymig etc.
Also compatible with other manufacturer's hobby MIG torches such as Cosmo, Telwin, Sureweld, Ferm.
37mm long, screw-on, M8 thread.
*Not compatible with the smaller Clarke hobby welders which use longer 45mm shrouds. See Clarke screw-on shrouds.