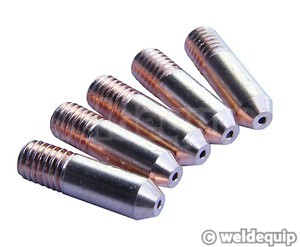 SIP & Sealey Type Hobby MIG Torch Tips
Contact Tips for SIP & Sealey Hobby MIGs
0.6mm, 0.8mm & 0.9mm sizes
Pack of 5 tips
£ 3.45 (inc VAT)
Select Size

0.6mm pack of 5
£3.45
(inc VAT)

0.8mm pack of 5
£3.45
(inc VAT)

0.9mm pack of 5
£3.45
(inc VAT)
18mm long x M5 thread. These copper contact tips will fit most models of SIP hobby MIGs; Migmate, Topmig 150 & Sealey hobby MIGs; Mightymig etc.
Also compatible with other manufacturer's hobby MIG torches such as Cosmo, Telwin, Sureweld & Ferm.
Contact tips transfer current to the wire, so it's important to replace them when they become worn or distorted.
The tips are sized for the diameter of wire in use. (For welding Aluminium it is common practice to use a tip size one larger than the diameter of wire to help prevent the wire sticking inside the tip.)
There are no items in your shopping cart