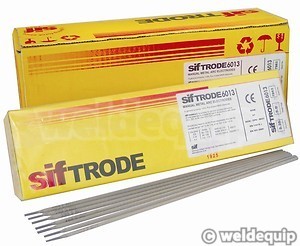 SIFtrode 7018 Low Hydrogen Electrodes
Basic coated for medium tensile steels
All positional
2.5mm, 3.2mm & 4.0mm diameters
From £ 21.95 (inc VAT)

SIFtrode 7018 Electrodes 2.5mm 5.0kg Pack
£22.95
(inc VAT)
220 rods per pack

SIFtrode 7018 Electrodes 3.2mm 5.0kg Pack
£22.35
(inc VAT)
140 rods per pack
Sorry, this product has sold out.

SIFtrode 7018 Electrodes 4.0mm 5.0kg Pack
£21.95
(inc VAT)
90 rods per pack
Excellent value basic coated Low Hydrogen electrodes from Sifbronze designed for welding mild and medium tensile steels, with a high strength, crack resistant deposit up to 510MPa.
Good deposition rate with a nice bead appearance, they strike and re-strike well, with a stable arc & reduced spatter. Perform well in all positions and deposited slag is easily removed. Excellent X-ray results.
Suitable for use in AC or DC (+).
AWS A5.1: E7018
EN499: E424B42
CE Certified
Lloyds Approved
Tensile Strength: 540N/mm2
Yield Strength: 470N/mm2
Current Range
2.5mm : 60 – 100 Amps
3.2mm : 85 – 130 Amps
4.0mm : 130 – 170 Amps


There are no items in your shopping cart