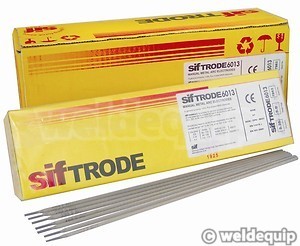 SIFtrode 6013 Mild Steel Electrodes
Excellent value general purpose MMA (Arc Welding) rods from Sifbronze
All positional rutile-coated
2.5mm, 3.2mm & 4.0mm diameters
From £ 18.98 (inc VAT)

SIFtrode 6013 Electrodes 2.5mm 5.0Kg Pack
£21.98
(inc VAT)
265 rods per pack

SIFtrode 6013 Electrodes 3.2mm 5.0Kg Pack
£21.45
(inc VAT)
170 rods per pack

SIFtrode 6013 Electrodes 4.0mm 5.0Kg Pack
£18.98
(inc VAT)
115 rods per pack
A great value general purpose 6013 mild steel electrode from Sifbronze.
Suitable for use in all popular welding positions they have a smooth arc, low spatter and easy lifting slag to reveal a finely-rippled weld bead.
They can be used in DC+, DC- or AC (min 50v OCV).
CE approved to EN13479.
Current Range:
2.5mm : 60 -100 Amps
3.2mm : 85 -130 Amps
4.0mm : 130 -170 Amps