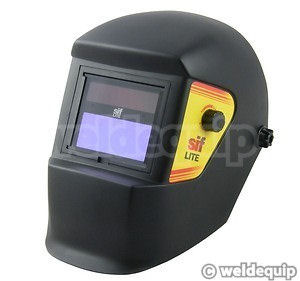 SifLite Auto Darkening Welding Helmet
Best buy budget autoshield
Variable shade control
Variable sensitivity & delay control
Solar cell powered
Accepts magnification lenses
This autoshield from Sifbronze is, in our opinion, the best quality budget react-a-light helmet on the market. The polypropylene helmet shell is much more robust than some others, and the ratchet head gear is comfortable & un-complicated. The external shade control dial can easily be adjusted wearing gloves and is mounted on an aluminium shaft (not plastic as with others) so is insensitive to knocks.
Importantly, the internal sensitivity & delay adjustment is from fully variable dial controls, not just fixed high or low switches.
Magnification Lenses are available to slot into the back of the LCD cartridge, great for finer detail work or poorer vision. Available in 1.0 – 2.5 Diopter.
Fully conforms to all relevant international safety standards, as you would expect from a long established company like Sifbronze.
*Not suitable for low amp TIG welding.
Specifications
Solar cell powered with twin sensors
Fully variable shade control DIN 9 to 13
Light state shade 4
Stepless adjustable sensitivity control
Stepless adjustable delay control
Viewing area 96 x 42mm
Switching time 1/10,000 sec
Weight 500g
12 month warranty on filter unit
Standards: CE, EN379, EN175, ANSI Z87.1
Related Products
There are no items in your shopping cart