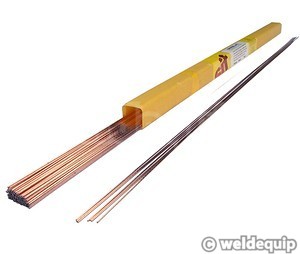 SIFcupron No.17 (CP3) Brazing Rods
Copper to Copper Brazing Rods
1kg maintenance packs
1.5mm, 2.4mm & 3.2mm diameters
From £ 37.80 (inc VAT)

Sifcupron No.17 1kg 1.5mm
£39.75
(inc VAT)
Approx 130 rods x 500 mm long
Sorry, this product has sold out.

Sifcupron No.17 1kg 2.4mm
£38.65
(inc VAT)
Approx 43 rods x 500 mm long

Sifcupron No.17 1kg 3.2mm
£37.80
(inc VAT)
Approx 29 rods x 600 mm long
A high quality copper-phosphorous brazing alloy with low melting point, good electrical conductivity and corrosion resistance. Widely used in the Refrigeration & HVAC industries for brazing of copper pipework systems. No flux is required for copper to copper joints.
Material data sheet supplied with each pack.
BS: 1845 CP3
EN 1044: CP201
EN ISO: 17672 CuP 180
DIN8513: L-Cu7P

There are no items in your shopping cart