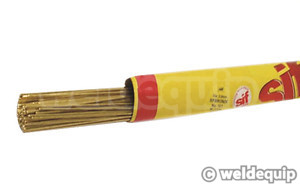 SIFbronze No.1 Brazing Rods
Multi-purpose silicon bronze brazing rods
1kg maintenance packs
1.6mm & 2.4mm diameters
From £ 28.90 (inc VAT)

SIFbronze No.1 Brazing Rods 1kg 1.6mm
£31.20
(inc VAT)
Approx 60 rods x 1 metre long
The original, multi-purpose low temperature rod for brazing and bronze welding of steels, cast iron, copper and it's alloys. Favoured throughout industry for it's variety of applications and ease of use.
Capable of joining virtually any metal except aluminium, SIFbronze No.1 is THE recognised brazing rod and is widely used in bicycle frame manufacture, tubular components, galvanized steel, dissimilar metal applications, cast iron repairs, vehicle bodies & general mild steel work.
Use SIFbronze Flux. Material data sheet supplied with each pack.
BS: 1845 CZ6A 1453 C2
EN: 1044 CU 302
There are no items in your shopping cart