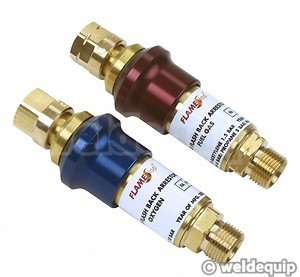 Flashback Arrestors Re-Settable
Wescol Flamestop® Type RS
Fully Re-Settable
Maximum Safety & Longevity
Premium Quality British Made
Guaranteed Safe!
£ 48.80 (inc VAT)
Absolutely essential safety devices that must be fitted to all Oxy/Fuel gas equipment to ensure H&SE compliance, and the operators own peace of mind.
The Flamestop ® Type RS is a fully re-settable Flashback Arrestor offering maximum levels of safety & longevity. In the event of a flashback you simply disconnect the devise from the regulator & click the activated sleeve back in to place. Once re-connected the Type RS again offers full flashback protection.
Re-settable Arrestors can also be annually tested - in accordance with BCGA codes of practice - to make sure they are working properly; the 'Inline' types cannot.
3/8" Bsp gas regulator fitting and 3/8" Bsp gas hose fitting.
Fuel gas models are suitable for use with acetylene, propane, hydrogen & natural gases. Oxygen models can also be used with high pressure air.
Features Include
Pressure activated shut off mechanism
Sintered stainless steel flame arresting element
Thermally activated shut off valve
Gas non-return valve
Dust filter
Standards
Designed & manufactured in the UK to comply with international safety standard EN 730 and independently tested by H&SE (UK), BAM (Germany) and UL (USA).



There are no items in your shopping cart