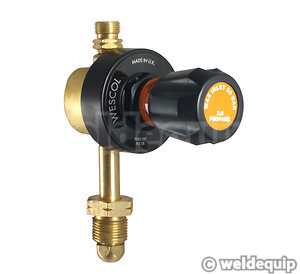 Propane Gas Regulator
Wescol Single Stage Plugged
0-3.5 Bar Output
Premium Quality British Made
Guaranteed Safe!
Sorry, this product has sold out.
Premium quality British made Propane gas regulator.
Industry standard Propane regulator used for all heating & cutting applications.
Solid brass construction, 'plugged' – pressure gauges are not normally fitted to these regulators as a contents pressure gauge will never show an accurate reading with liquid Propane – with output pressure set by calibrations marked under the pressure adjustment knob.
Standard 5/8"BSP left hand gas cylinder connection with 3/8"BSP left hand hose connection.

Not suitable for use with Acetylene gas.
Individually date stamped to meet BCGA - British Compressed Gases Association - code of practice, which recommends Regulators be replaced every 5 years.
Safety First

Cylinder gases are stored under ever increasing high pressures and can be extremely dangerous, so the regulator needs to be up to the job. Some of the cheap, imported gas regulators on the market have been shown to catastrophically fail in laboratory safety tests.
WESCOL have been manufacturing gas regulators in the UK for over half a century. These regulators meet, or exceed, all international safety standards, and are proven the world over.

There are no items in your shopping cart