We are currently closed for the February Half-Term and will be accepting orders again from Monday 18th Feb.
Jasic PRO TIG 200 Pulse Dual Voltage Inverter TIG Welder
200 Amp DC Pulsed TIG/MMA Inverter Welder
Dual Voltage 230v/110v
Digitally controlled, fully adjustable parameters with memory store
Package including TIG Torch & Gas Regulator
Leading Technology, Leading Supplier, 5 Year Warranty
£ 698 (inc VAT)
A new range of Inverter Welding Systems from Wilkinson Star Ltd. Exceptionally keenly priced - without compromising on component specification - all feature advanced design, excellent build quality, and professional level features & performance. Fully supported throughout the UK & Ireland with an industry beating 5 Year Warranty.
The PRO TIG 200P will operate from standard 230v mains supplies or 110v site supplies, so is perfect for shop and site use. In the workshop it provides a full 200 Amps of DC TIG power and 180 Amps on MMA, with optional lead. For site use from 110v supplies you get 130 Amps on TIG @ 35% Duty Cycle and 100 Amps on MMA @ 35% Duty Cycle, enough to run a 3.2mm electrode (most types).
All parameters are digitally controlled and set from the simply laid out control panel. TIG features include full Pulse settings with an adjustable frequency range of 0.5 - 200 Hz, fully adjustable Up/Down Slope, Pre/Post Gas, 2T & 4T Torch Latching, Spot-Weld and, of course, HF (High Frequency) start. On MMA there is built in Hot-Start and adjustable Arc-Force. Autosave stores previously used settings.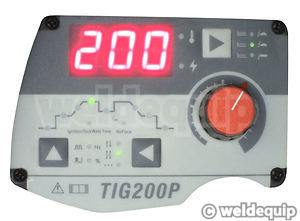 Key Features
Latest 40 Khz IGBT Inverter technology for greatly reduced size, weight & efficiency
Adaptive Arc-Force for a reliable, stable arc when using long extension leads
VRD and auto-compensation for voltage fluctuation
Generator friendly
Advanced single PCB construction for easy testing & servicing
Air channel design for maximum reliability
Industry leading 5 Year Warranty Cover & support from Wilkinson Star
Supplied With
4 Metre WP17 TIG Torch Assembly fitted with power cable adaptor, quick fit gas connection, zipper cover & front-end parts
3 Metre Earth Lead fitted with 200 amp earth clamp, 35-50mm dinse plug
Quality Argon Gas Regulator 2 gauge
3 Metre Argon Gas Hose with quick release machine coupling
5 year warranty cover
Technical Specification
Supply Voltage: 230v or 115v with Smart-Switching
Input Power from 230v Supplies (kVA): TIG 6.0 MMA 8.2
Input Power from 115v Supplies (kVA): TIG 4.0 MMA 5.0
Output Range from 230v Supplies: TIG 10A – 200A MMA 10A – 180A
Output Range from 115v Supplies: TIG 10A – 130A MMA 10 – 100A
Duty Cycle @ 40C: 35% @ 200 Amps from 230v 35% @ 130 Amps from 115v
Dimensions: 365mmL x 135mm W x 277mm H
Weight (machine only): 6.12kg
Protection/Insulation Class: IP21S/F
Standards of Conformance : ALL
Warranty: 5 Years