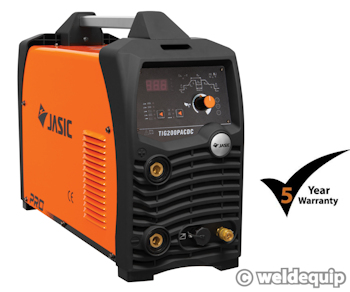 Jasic PRO TIG 202P AC/DC Digital Inverter TIG Welder
200 Amp AC/DC TIG Inverter 230v Single Phase
Fully loaded specification with Digital Control
Package including TIG Torch & Gas Regulator
Water Cooled option
Market leading 5 Year Parts & Labour Warranty
Monthly offers available - email for details
From £ 1426 (inc VAT)

Jasic PRO TIG 202P Foot Pedal
£235
(inc VAT)
Feature packed AC/DC machine suitable for welding most materials including Aluminium & Alloys up to around 6mm thickness. Digitally controlled for superior performance over standard analogue type models.
The control panel is simply laid out with membrane keys for selecting settings and single dial control for adjusting parameters. 5 programme memory storage allows settings to be instantly recalled for repeat jobs, and there are no less than 20 different torch trigger configurations! These include your standard 2T & 4T, Spot-Welding and more complex waveforms such as Dual-Pulse and Variable Polarity AC Pulse.
Fully supported throughout the UK & Ireland with Wilkinson Star's industry leading 5 year warranty.

Key Features
Digitally controlled for superior arc performance
AC Square Wave TIG, AC Pulsed TIG, DC TIG, DC Pulsed TIG, AC & DC MMA (Arc)
Adjustable AC Frequency Control
Adjustable AC Balance Control
Full Pulse settings on AC & DC up to 200Hz
5 programme memory storage for recall of individual job settings
Easy to use control panel with digital display
Industry leading 5 Year Warranty Cover & support from Wilkinson Star
Supplied With
4 Metre WP26 TIG Torch Assembly fitted with power cable adaptor, quick fit gas connection, zipper cover & front-end parts.
3 Metre Earth Lead fitted with 200 amp earth clamp, 35-50mm dinse plug
Quality Argon Gas Regulator 2 gauge
3 Metre Argon Gas Hose with quick release machine coupling
5 year warranty cover
Water Cooled Option
4 Metre WP20 Water Cooled Torch
Modular Water Cooling Unit
Trolley
Technical Specification
Supply Voltage: 230V
Input Fuse: 20A/30A @ Max
Output Range: 10A – 200A TIG, 10A – 160A on MMA
Duty Cycle @ 40C:
TIG 25% @ 200 Amps, 60% @ 160 Amps, 100% @ 120 Amps
MMA 30% @ 160 Amps, 60% @ 150 Amps, 100% @ 120 Amps
Dimensions: 570mm L x 350mm W x 420mm H
Weight Air Cooled: 15kg
Weight Water Cooled: 70kg
Protection/Insulation Class: IP21S/B
Standards of Conformance : ALL
Warranty: 5 Years

There are no items in your shopping cart