We are currently closed for the February Half-Term and will be accepting orders again from Monday 18th Feb.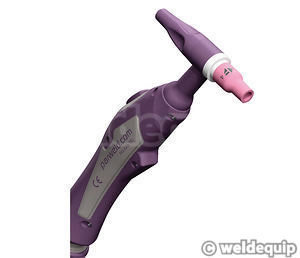 Parweld Pro-Grip™ PRO18 - PRO18FX TIG Torches
WP18 style premium TIG torches
Water cooled 350 Amp DC, 260 AC @ 100% Duty Cycle
12.5Ft or 25Ft cable lengths
Fixed head or flexi-head
Switched & sheathed
Trigger blanking kit included in our price
Technically superior. Ergonomically superior
From £ 93.55 (inc VAT)

Parweld Pro-Grip™ PRO18 TIG Torch 12.5Ft
£93.55
(inc VAT)

Parweld Pro-Grip™ PRO18 TIG Torch 25Ft
£144.25
(inc VAT)

Parweld Pro-Grip™ PRO18FX TIG Torch 12.5Ft
£105.25
(inc VAT)
Flexi-head

Parweld Pro-Grip™ PRO18FX TIG Torch 25Ft
£155.20
(inc VAT)
Flexi-head

Gas Hose Adaptor 3/8 inch BSP - 1/4 inch BSP
£8.20
(inc VAT)
For connecting standard 3/8 inch gas hose on torch to 1/4 inch machine gas outlets - IFL,EWM, R-TECH etc

Water Cooler Adaptor 3/8 inch BSP Nut - Snap-Fit
£12.60
(inc VAT)
Screws into the 3/8 inch BSP hose nut on the torch cables with a snap-fit connector for water cooling connection. 2 required

Water Cooler Hook-Up Kit 1 Metre
£29.65
(inc VAT)
Water supply/return hoses with snap-fit connectors to water cooler & 3/8"BSP quick-release adaptors to connect standard UK water cooled torches
WP18 series heavy duty water cooled torches for more continuous TIG work up to 350 Amps DC and 260 Amps AC @ 100% Duty Cycle.
Technically & ergonomically superior TIG torches, you will find these lovely to use and vastly superior quality to all the economy torches on the market. Overbraided rubber power cables give maximum flexibility and are protected by a tough rubber/leather sheath for longevity. The ergonomic handle provides optimum torch handling in all positions and trigger switches can be added, removed or replaced in seconds.
Pro-Grip™ TIG Features & Benefits
Plug and Play™ - Un-Plug and Play!

We include as standard a Switch Blanking Kit, normally an extra cost option. If you want to use a Foot Pedal you can remove the handle switch & insert the blanking kit for better torch handling. Swap back to using torch control whenever you like; all done in seconds without the need for any tools or wiring.
Supplied as standard with 3/8" Bsp connections on Gas, Water & Power leads, with water cooler adaptors available to connect to cooling units (2 required). Switched and Sheathed in high quality Leather/Rubber. Dinse Power Cable Adaptor normally required. Switch lead Amphenol plug not supplied, simply swap your existing plug on to the new lead. Full range of plugs to fit most machines available if required + different handle switch options.
You will need front-end torch parts & tungsten electrode for use (back-cap supplied).