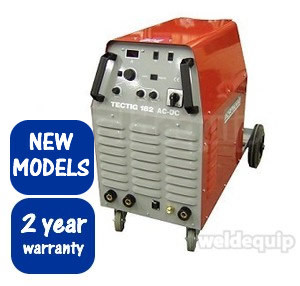 Portamig TEC-TIG AC/DC TIG Welder
185 model: 10-185 amp AC/DC TIG
225 model: 15-225 amp AC/DC TIG
Dual Voltage 230/400v
Traditional Transformer Design
Custom Built in Britain
2 Year Warranty
From £ 1185 (inc VAT)
*Please note that these machines are hand built to order by a bespoke lower volume British manufacturer and there will be a delay in delivery from the date of order. Build times do vary and are currently around around 4 weeks.

Portamig TEC-TIG 185 AC/DC TIG Welder
£1185
(inc VAT)
Sorry, this product has sold out.

Portamig TEC-TIG 225 AC/DC TIG Welder
£1449
(inc VAT)
Sorry, this product has sold out.

Portamig TEC-TIG Foot Control
£219
(inc VAT)
Potentiometer to set maximum amps, 3 metre cable with machine amphenol plug
Individually built to order in England using traditional Transformer/Thyristor design, these machines offer an alternative to complex electronic Inverter based systems.
Nice and simple for long term reliability & easy servicing, they are constructed in a robust cabinet/chassis to accept full size gas cylinders, providing a self contained mobile TIG unit for the light fabrication workshop.
The control panel is simply laid out and very easy to use, providing all essential TIG functions.
Now featuring AC Square Wave & AC Balance Control for the very best performance on Aluminium & Alloys. These updated models now also offer Dual Voltage 230V and 400V input supply for total flexibility within workshops, and have Power Factor Correction - PFC - incorporated for reduced power consumption & better capability to withstand large fluctuations in power supply (including from Generators).
All electronics are housed in a seperate compartment away from the cooling fan, ensuring that any dust drawn in to the machine cannot cause damage to sensitive components.
Fully copper wound main transformer & choke protected with a 5 year warranty.
Standard Features:
Dual Votage Supply - 230v Single Phase AND 400v Three Phase
AC & DC Output to cover most materials including Aluminium & Alloys
AC Square Wave Output
Adjustable AC Balance Control
Power Factor Correction (PFC)
Electronic Pulse HF Start
Infinitely Variable Current Control
Digital Ammeter with Pre-Set Function
Up Slope, Down Slope, Post Gas & Torch Latching Controls
TIG/MMA Switch & Remote Control Socket
Supplied with:
Quality 4 Metre TIG Torch Assembly (WP17 on 185 & WP26 on 225 model)
Industrial 2 Gauge Argon Gas Regulator & Earth Return Lead
2 Year Warranty Package
Technical Specification
| | | |
| --- | --- | --- |
| | TEC-TIG 185 | TEC-TIG 225 |
| Amperage Range AC or DC: | 10 - 185 | 15 - 225 |
| Duty Cycle @60%: | 105 Amps | 150 Amps |
| Duty Cycle @35% | 135 Amps | 200 Amps |
| Open Circuit Volts: | 55V | 58V |
| Fuse for 230v supply: | 32A | 40A |
| Fuse for 400V supply: | 16A | 20A |
| Size Approx (mm): | 650H x 350W x 800L | 680H x 350W x 800L |
| Weight: | 55kg | 70kg |