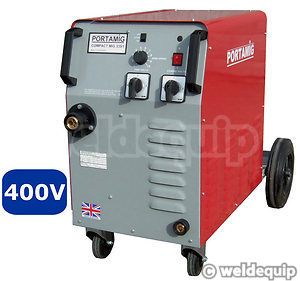 Portamig HD 400V MIG Welders
285, 335 & 405 Amps 400v Three Phase
Heavier Duty Industrial Fabrication Sets
4 x 4 Wire Feed as Standard
Better Duty Cycle & Amps Range
Individually Built to Order in England
2 Year Warranty
From £ 989 (inc VAT)
*Please note that these machines are hand built to order by a bespoke lower volume British manufacturer and there will be a delay in delivery from the date of order. Build times do vary and are currently around 4 weeks.

PORTAMIG 285 Amp HD 400v Package
£989
(inc VAT)

PORTAMIG 335 Amp HD 400v Package
£1135
(inc VAT)

PORTAMIG 405 Amp HD 400v Package
£1298
(inc VAT)
Traditional no fuss fabrication sets for professional 3 Phase Supply workshops. No fancy electronics, just a good old rugged design built to last! 100% designed & manufactured in the UK, the case & chassis are made from heavy gauge powder coated steel, and all internal components are rated to give long term reliability. A large Smoothing Capacitor Bank provides superb, almost spatter free welds, and an energy efficient design means lower power consumption.
Higher Duty Cycle
Extra windings on the Transformers have been specified to increase the Duty Cycle beyond similar machines on the market. This adds to the costs but provides a better amperage range, longer working periods, and ultimately a longer machine life as it's not being worked as hard. A Twin-Fan cooling system also supports this.
4x4 Wire Feed
All metal, Geared 4 roll industrial drive with heavy duty motor for totally dependable wire feed performance on all wires. Fitted as standard.
Torch Trigger Latching & Electronic Burn-Back Control built in as standard.
Superior quality Euro-Torch & Gas Regulator supplied as standard.
Supplied with:
Premium Quality Parweld Pro-Grip™ Euro-Torch (Type 25 on 285HD & Type 36 on 335HD & 405HD)
Quality, British made industrial 2 gauge argon gas regulator
3 metre quick-connect earth lead assembly
3 metre mains input lead
2 year warranty
5 year transformer warranty

Technical Specification:
285HD
335HD
405HD
Amps Range:
25-285
30-335
35-405
Voltage Steps:
16
20
30
Weldable Wire Size:
0.6-1.2mm
0.6-1.2mm
0.6-1.6mm
Duty Cycle @ 45%
270A*
330A
400A
Duty Cycle @ 60%:
205A
270A
340A
Duty Cycle @ 100%
160A
210A
263A
Input Fuse:
16A (slow)
16A (slow)
32A (slow)
Weight:
75kg
93kg
110kg
Dimensions:
690mmH x 390mmW x 880mmL (excluding rear wheels & handle)
* 35% Duty Cycle @ 270A on the 285HD Model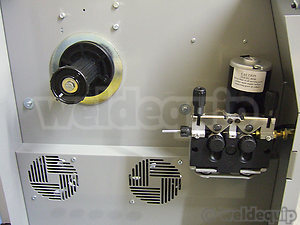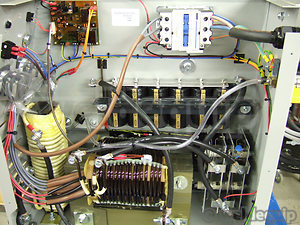 There are no items in your shopping cart