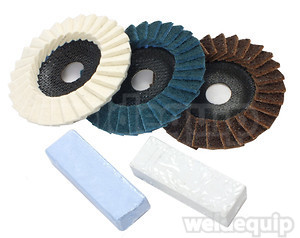 Dronco Polishing Set 115mm
5 Piece Polishing Set for 115mm angle grinders
Mirror finish on stainless steel etc.
Manufactured in Germany
4 easy steps to achieve a mirror finish on stainless steel, copper, brass etc.
from your 115mm angle grinder.
Start by using the Coarse polishing disc (brown)
Then process with the Fine polishing disc (blue)
Apply white pre-polish compound & buff with the white Gloss polishing disc
Apply blue polishing compound & again use the Gloss polishing disc to achieve your mirror like finish!
For aluminium polishing use the optional Brown polishing compound block.
For optimum results use a different Gloss polishing disc for each colour compound block.
Blister packed, standard fitting for all 115mm angle grinders.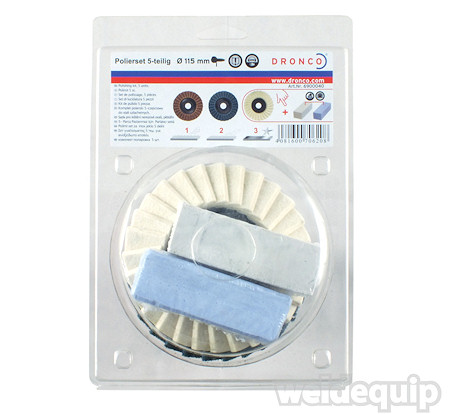 There are no items in your shopping cart