We are currently closed for the February Half-Term and will be accepting orders again from Monday 18th Feb.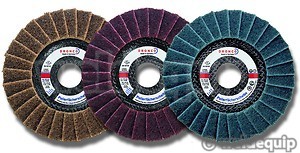 Polishing Flap Disc 115mm
Polish Stainless Steel, Aluminium, and other metals
Manufactured in Germany by Dronco
115mm (4 1/2 inch), 22mm bore
Fast, low cost delivery
From £ 4.48 (inc VAT)
Select Grade:
Brilliant for preparing & polishing Stainless Steel, Aluminium, Mild Steel etc.etc.
Use for de-scaling & de-rusting work-pieces, preparing & finishing weld seams, removing oxide film & annealing colours after welding & plasma cutting.
Fibre-glass backed and will fit straight on any 115mm angle grinder.
Also consider