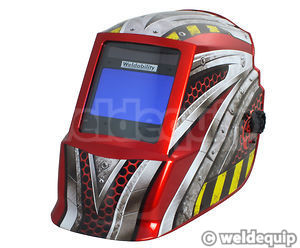 Phantom Extreme Auto Darkening Welding Helmet
Dual Shade Ranges 5-8 and 9-13
XL Lens area - 50% taller than standard sizes
2 Amp minimum sensitivity for precision TIG
2 x twin sensors for increased arc detection
Replaceable battery for extended LCD cartridge life
Suitable for MIG, TIG, ARC, PLASMA and OXY/ACETYLENE processes
Clear Grinding Mode
Accepts Magnification Lenses
Sorry, this product has sold out.
Essentially the same as the popular Phantom XL from Weldability SIF the Extreme model benefits from a dual shade range of 5-8 and 9-13 to cover virtually every application, and a slightly better optical class.
The optical viewing area is almost 50% taller than standard versions for greater visibility of the job in hand, and benefits from 4 independent light sensors for dependable switching in all applications. Lens reaction time is <1/25,000s and is sensitive enough for DC Pulsed TIG down to 4 amps, AC TIG down to 4 amps, and standard DC TIG down to just 2 amps!
MIG/MAG, MMA & PLASMA Cutting/Welding and Oxy/Acetylene Welding/Cutting are all also perfectly coveredwith it's Dual Range variable shade control 5-8 and 9-13; this is is located internally on the ADF unit to prevent any external damage caused from knocks, along with fully variable Sensitivity & Delay controls. The unit is solar cell powered from the welding arc, with a replaceable battery back-up for extended cartridge life; 6000hr average life, 2x 3V Lithium cell batteries, readily available.
The helmet shell itself provides excellent, full front & side protection and is manufactured from high impact resistant Nylon to EN175B standard. Finished in a nice metallic red coating with 'Extreme' graphics. The headgear is comfortable & fully adjustable – from 'nose to lens' fit – as well as head size & rake angle adjustment.
Magnification Lenses can be slotted into the back of the LCD cartridge for fine detail work.
Specifications
Solar cell powered with 4x optical sensors
Lithium battery back-up (replaceable) with internal LED to indicate replacement
XL Viewing Area: 97mm x 62mm
Application Range: DC TIG <2amp, AC TIG <4amp, DC Pulse TIG <4amp
Suitable for MIG/MAG, TIG, MMA & PLASMA ARC Welding/Cutting, Gas Welding/Cutting & Grinding
Dual range variable shade control DIN 5-8 and DIN 9-13 (internal adjustment)
Fully variable Sensitivity & Delay control
Optical Class 1/1/1/2
Weight 490g
Standards: CE, EN379, EN175, ANSI Z87.1, CSA Z94.3
Related Products
There are no items in your shopping cart