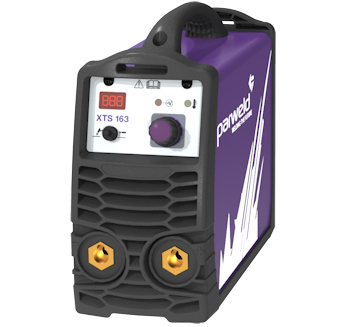 Parweld XTS 163 Inverter Arc Welder
XTi 160 updated model
5-160 Amp DC 230v single phase
Lift-Arc TIG facility
Supplied with Leads
3 Year Warranty
£ 177 (inc VAT)

Parweld XTS 163 Inverter Package
£177
(inc VAT)
Complete with 3 Metre Arc Lead Set
Parweld XTS 163 Site Case
£39
(inc VAT)
Tough ABS Site Case for Machine & Leads Transportation/Storage

Parweld XTS 163 Inverter TIG Kit
£73.90
(inc VAT)
WP17v 4 Metre TIG Torch Assembly & Quality Argon Gas Regulator

2.5mm (60-100 Amps) 6013 Mild Steel Rods 2.5Kg Box
£7.80
(inc VAT)

3.2mm (85-130 Amps) 6013 Mild Steel Rods 2.5Kg Box
£7.80
(inc VAT)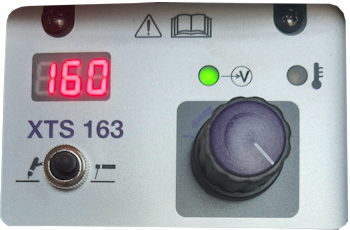 An updated model of the very popular Parweld XTi 160, the XTS 163 now features digital control with AMPs display and is much more compact and lightweight - weighing just 4.7kg.
Automatic Arc Force, Hot Start and Anti-Stick make it very easy to use with excellent arc characteristics, minimal spatter and a lovely smooth weld.
Toggle switch for selecting between ARC or Lift-TIG mode and accurate adjustment of Amperage, from the clear digital display.
Ideal for Maintenance, Agricultural Repairs, DIY etc. and supported with an excellent 3 Year Parts & Labour Warranty.
Specifications
Supply Voltage: 230v +/- 15%
Fuse Rating: 13/16A
Output Current Range: 5A -160A
KVA Rating: 6
Output OCV: 60V
Duty Cycle: 25% @ 160A, 60% @ 75A, 100% @ 60A
Dimensions: 290mm L x 115mm W x 250mm H
Weight: 4.7kg
Enclosure Class: IP23S
Standards of Conformance: ISO/IEC60974-1, ISO/IEC60974-6, RoHS
Warranty: 3 Years Parts & Labour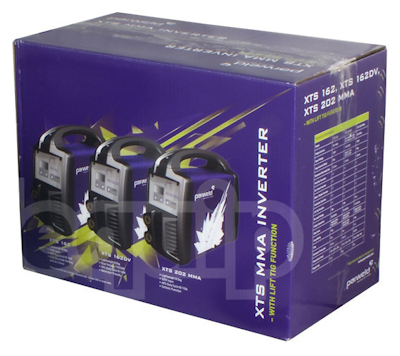 There are no items in your shopping cart