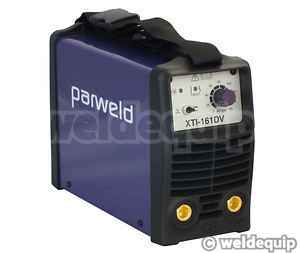 Parweld XTi 161 DV Inverter Arc Welder
5-160 Amp DC Inverter Arc Welder
Dual Voltage 110v/230v with Auto-Switch
Lift-Arc TIG Facility
Quality Site Case, Shoulder Strap & Leads Included
2 Year Warranty
£ 298 (inc VAT)

Parweld XTi 161 DV Inverter Package
£298
(inc VAT)
Sorry, this product has sold out.
A dual voltage version of the popular XTi 160 model from Parweld. Able to operate from standard 230v electrics and 110v power supplies, with automatic voltage selection, making it an ideal tool for shop or site use.
Automatic Arc Force, Hot Start and Anti-Stick give it excellent arc characteristics, and the Duty Cycle on the DV model is improved to 60% at full power and 100% at 135 Amps, so it will lay down a 3.2mm electrode continuously (10 minute cycle).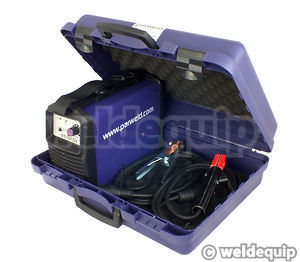 A protective ABS chassis prevents damage caused by drops & knocks, and it is supplied with a very substantial site case as standard. The entire kit, including machine, 3 metre leads & site case weighs just 11.4Kg (machine only weight 7.14Kg) so it is ideal for mobile maintenance & site repair work.
Requires a 16 Amp supply for use on 230v and 32 Amp from 110v supplies, minimum 5Kva 110v transformer. Can be operated from power generators that are AVR stabilized, kVA requirement 6kVA +.

TIG
The 161DV can also be used for basic TIG welding tasks with the addition of the optional TIG Kit and suitable Argon gas supply. Lift-Arc TIG mode – selected by a toggle switch on the control panel – limits the arc current to prevent tungsten electrode damage.
Supplied With
3 Metre Lead Set with 200 Amp Electrode Holder, 200 Amp Earth Clamp & 35-50mm Dinse Plugs
Machine Shoulder Strap
Robust Site Case
Technical Specification
Supply Voltage: 110v/230v +/-15%
Output Current Range: 5A - 160A
Max OCV: 60V
Duty Cycle: 60% @ 160 Amps, 100% @ 135 Amps
Electrode Sizes: 1.6mm – 4.0mm
Dimensions: 320mm L x 140mm W x 290mm H
Weight (machine only): 7.14kg
Weight (inc site case & leads): 11.4kg
Insulation Class: IP23S
Standards of Conformance :ISO/IEC60974-1, ISO/IEC60974-6, CE RoHs WEEE
Warranty: 2 Years
There are no items in your shopping cart