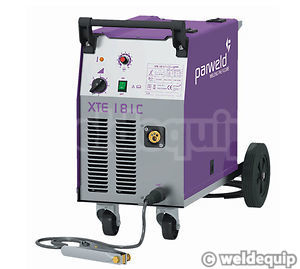 Parweld XTE 181C – XTE 201C MIG Welders
185 Amp & 205 Amp 230v single phase models
Excellent Automotive/Maintenance Workshop machines
Dual purpose gas or gasless operation
Packages including Euro-Torch & industrial Gas Regulator
Quality Wire Drive
2 Year warranty
From £ 529 (inc VAT)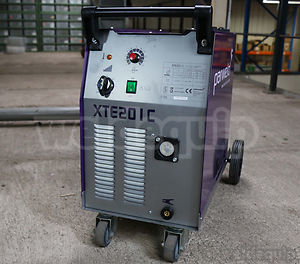 The bigger Brothers of the excellent 171C from Parweld's Automotive range that we tested earlier last year the 181 & 201 models use the same quality chassis, with higher top-end outputs for increased Duty Cycles and that extra bit of poke for thicker material.
For Automotive & home/maintenance workshops these sets are hard to beat at this price level and compete with machines costing much more. Presentation, build quality, features & performance are A1 for the money.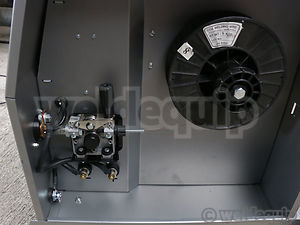 Traditional Transformer based sets so you can sit your gas cylinder on the back & wheel around the workshop; they accept up to 20 Litre size refillable gas cylinders with substantial rear wheels & solid bar (not tube) rear axle. A Gas Regulator for refillable Argon/CO2 gas cylinders is in the price. Transformer also means easy servicing & economical repair in comparison to complex electronic Inverter based machines!
A diecast alloy wire drive with substantial feed motor is much superior to the usual plastic offerings at this price level & really does make a difference to weld performance. You can use 0.6mm or 0.8mm diameter wires in medium size 5Kg spools or full size 15Kg spools. There is also polarity reversal so you can use Gasless, Flux-cored wires. 8 voltage settings give you a wide range of control.
Supplied with:
3 Metre Euro-Torch Assembly – Type 15
Industrial 2 Gauge Argon Gas Regulator for refillable Argon/CO2 gas cylinders
Earth Lead Assembly – quick fit 16/25mm Dinse plug & decent 200 amp clamp
2 Year Warranty
Specifications

| | | |
| --- | --- | --- |
| | Parweld XTE181C | Parweld XTE201C |
| Output Range | 35A/15.75V - 185A/23.25V | 40A/16V - 205A/24.25V |
| Supply Voltage | 230v | 230v |
| Input Fuse @ Max | 16A | 32A |
| Voltage Steps | 8 | 8 |
| Duty Cycle @ 30% | 130A | 145A |
| Duty Cycle @ 60% | 90A | 100A |
| Duty Cycle @ 100% | 70A | 80A |
| Weight | 40.8Kg | 42.8Kg |
| Dimensions | 706mm(H) x 420mm(W) x 630mm(L) | 706mm(H) x 420mm(W) x 630mm(L) |
| Protection Class | IP21S | IP21S |
| Warranty | 2 Years | 2 Years |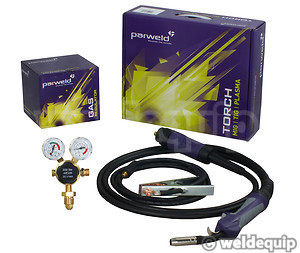 There are no items in your shopping cart