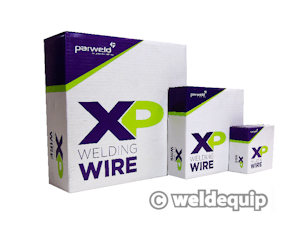 MIG Welding Wire Mild Steel 5kg
0.6mm & 0.8mm sizes
200mm diameter medium size spool
From £ 21.45 (inc VAT)

5kg Spool Mild Steel MIG Welding Wire 0.6mm
£26.30
(inc VAT)

5kg Spool Mild Steel MIG Welding Wire 0.8mm
£21.45
(inc VAT)
Parweld XP is a quality mild steel MIG welding wire supplied on the medium size 5kg spools - 200mm diameter with a 50mm hole centre.
Use 0.6mm diameter for very thin sheet such as car body panels, 0.8mm on thicker materials like chassis, box section, flat bar etc.
Rusty welding wire is a major cause of wire feed problems with MIG welders. If you have run rusty welding wire through your machine you will need to fully service the welding torch before a consistent, reliable wire feed can be achieved again, irrespective of wire quality.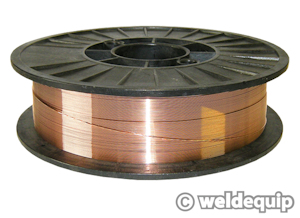 There are no items in your shopping cart