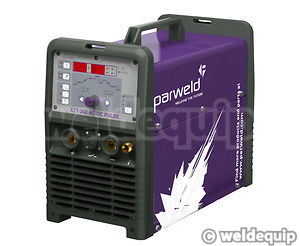 Parweld XTT 202P AC/DC Pulsed TIG Inverter
XTi 202 Updated model
200 Amp AC/DC TIG Inverter 230v Single Phase
Package including Torch & Gas Regulator. Water Cooled option
On-Torch Remote Control as standard
3 Year Parts & Labour Warranty
From £ 1135 (inc VAT)

Parweld XTT 202P AC/DC Pulsed Inverter Package P1
£1135
(inc VAT)
Pro-Grip™ WP26 4M Torch with remote current control + Gas Regulator

Parweld XTT 202P AC/DC Water Cooled Package P1WT
£1785
(inc VAT)
Fully Water Cooled Package with 230v Cooler, Trolley, WP20 4M Torch + Gas Regulator

Parweld XTT 202P Foot Control
£195
(inc VAT)
Potentiometer to set maximum amps, 3 metre cable with machine amphenol plug

Parweld XTT 202P Trolley Unit
£134
(inc VAT)
3 tier Trolley for Machine, Water Cooler, Gas Cylinder & Accessories (Included with Water Cooled package)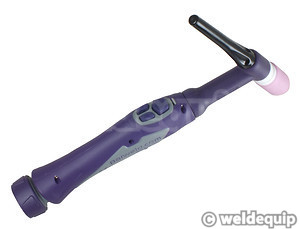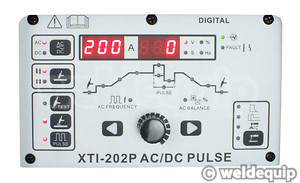 A nice quality AC/DC TIG set from Parweld, digitally controlled for superior performance over standard analogue type machines.
Well specified, with an easy to use control panel. On-Torch Remote Control is now included as standard on the air cooled model and machine warranty has been extended to 3 Years.
On-Torch Control can be used to adjust Amps up or down in 2T mode and also Pre/Post Gas, Slope In/Slope Out in 4T mode; press for fine 1 Ampere adjustment, press & hold for 10 Ampere adjustment. This switch can be removed in seconds and fitted with a switch blanking kit for better torch handling if using a Foot Pedal.
The Water Cooled Package option includes a WP20 250 Amp torch for the very best torch control throughout the full power range, 230v Water Cooler with connecting leads, and a 3 tier Trolley so the Machine, Cooler & gas cylinder can all be easily manoeuvred together around the workshop.
Key Features
Digitally controlled for superior arc performance
AC Square Wave TIG, AC Pulsed TIG, DC TIG, DC Pulsed TIG, AC & DC MMA (Arc)
Adjustable AC Frequency Control 50 -250Hz
Adjustable AC Balance Control 15 -50%
AC Pulse TIG 0.5 -200Hz
DC Pulse TIG 0.5 - 200Hz
Easy to use control panel with digital Amps/Volts display
3 Year Parts & Labour Warranty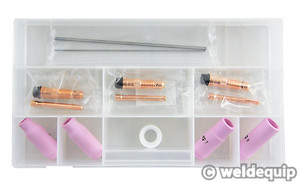 Supplied With
4 Metre WP26 TIG Torch Assembly with On-Torch Remote
3 Metre Earth Lead fitted with 200 amp earth clamp, 35-50mm dinse plug
Quality Argon Gas Regulator 2 gauge
3 Metre Argon Gas Hose Assembly
3 Year Parts & Labour warranty cover
Weldequip 14 Piece Torch Spares Set in compartment storage case
Water Cooled Option
XTS 904 Water Cooling Unit 230v
TR005 Trolley for Machine, Cooler & Gas Cylinder
Pro-Grip MAX® WP20 Water Cooled Torch 4M
XTSH-1 Hook Up Kit for Machine to Cooler
XTSUC Ultracool Coolant
Technical Specification
Supply Voltage: 230v
Input Fuse: 21A @ Max
Output Range TIG: 5A – 200A DC, 10A – 200A AC
Output Range MMA: 5A – 170A DC, 10A – 170A AC
Duty Cycle:
40% @ 200 Amps, 60% @ 120 Amps, 100% @ 100 Amps on AC
40% @ 200 Amps, 60% @ 140 Amps, 100% @ 110 Amps on DC
Dimensions: 493mm L x 320mm W x 330mm H
Weight (machine only): 25Kg
Protection/Insulation Class: IP23S
Standards of Conformance : ALL
Warranty: 3 Years
There are no items in your shopping cart