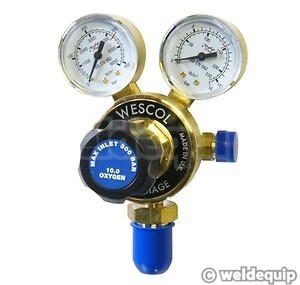 Oxygen Gas Regulator
Wescol Single Stage 2 Gauge
0-3.5 Bar or 0-10 Bar Outputs
Premium Quality British Made
Guaranteed Safe!
£ 36.85 (inc VAT)
Premium quality British made Oxygen gas regulators.
Solid brass construction with twin gauges, one showing the cylinder contents pressure and the second showing output pressure of either 0-3.5 Bar, for finer welding & light duty cutting applications, or 0-10 Bar for general welding/cutting & heating applications.
300 Bar rated for service at increased gas cylinder pressures, so fully compliant with the latest gas cylinder regulations; individually date stamped to meet BCGA - British Compressed Gases Association - code of practice, which recommends regulators be replaced every 5 years.
Safety First

Cylinder gases are stored under ever increasing high pressures and can be extremely dangerous, so the regulator needs to be up to the job. Some of the cheap, imported gas regulators on the market have been shown to catastrophically fail in laboratory safety tests.
WESCOL have been manufacturing gas regulators in the UK for over half a century. These regulators meet, or exceed, all international safety standards, and are proven the world over.

There are no items in your shopping cart