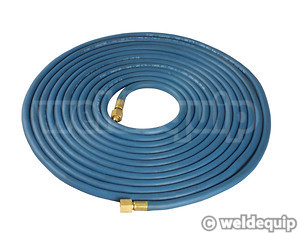 Oxygen Hose Sets
Oxy-Acetylene gas welding hose set for Oxygen
Superior quality rubber hose & fittings to full BSI Certification
Available in 5, 10 & 15 Metre lengths
6mm & 8mm Bore - 1/4" & 3/8" Torch fittings
From £ 14.94 (inc VAT)

6mm Bore Oxygen Hose Set x 5 Metre 1/4" Torch Fitting
£14.94
(inc VAT)

6mm Bore Oxygen Hose Set x 10 Metre 1/4" Torch Fitting
£22.23
(inc VAT)

6mm Bore Oxygen Hose Set x 15 Metre 1/4" Torch Fitting
£28.39
(inc VAT)

8mm Bore Oxygen Hose Set x 5 Metre 3/8" Torch Fitting
£16.83
(inc VAT)

8mm Bore Oxygen Hose Set x 10 Metre 3/8" Torch Fitting
£24.30
(inc VAT)

8mm Bore Oxygen Hose Set x 15 Metre 3/8" Torch Fitting
£33.65
(inc VAT)
Superior grade rubber hose factory fitted with high quality double safety check valves.
Flexible, high strength neoprene tube with polyester reinforcement
Durable, flame & abrasion resistant cover
Quality fittings with brass ferrules
Fully tested & approved by BSI to BS EN 559
Fitted with standard 3/8"BSP right hand connections to the Gas Regulator, choose:
6mm bore hose with ¼" BSP fittings for the smaller, Lightweight type Torches or

8mm bore hose with 3/8" BSP fittings for larger Type 3/4/5 and 18"/90 Cutting Torches.
Higher quality double safety check valves (DSCV) than most others, for reliable pressure flow & increased Flashback resistance; secured with high compression brass (not steel) ferrules.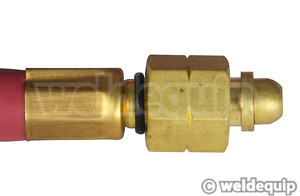 There are no items in your shopping cart