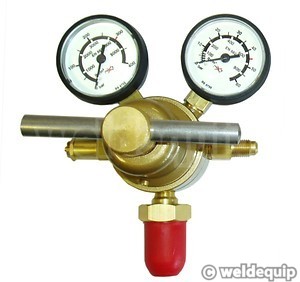 High Pressure Nitrogen Gas Regulator
Up to 2500psi output pressure
300 Bar input pressure rated
Different outlet connections for most applications
Made in UK
From £ 167 (inc VAT)

800 Psi High Pressure Nitrogen Regulator 3/8" BSP Outlet
£167
(inc VAT)

800 Psi High Pressure Nitrogen Regulator 1/4" SAE Outlet
£167
(inc VAT)

2500 Psi High Pressure Nitrogen Regulator 3/8" BSP Outlet
£258
(inc VAT)
High quality, UK made gas regulators designed for most high pressure nitrogen gas applications; purging, pipeline pressurisation, component pressure testing etc.
Available in 800 Psi or 2500 Psi output pressures with a standard 3/8" BSP outlet connection, the 800 Psi model can also be supplied with a 1/4" SAE Flare outlet specifically for testing Refrigeration/Air Conditioning systems.
Individually 100% tested before dispatch.
Delivery Pressure: 800 Psi (55 Bar) or 2500 Psi (170 Bar)
Max.Inlet Pressure: 4500 Psi 300 Bar
Inlet Connection: BS341 no.3 5/8" RH
Outlet Connection: 3/8" BSP RH or 1/4" SAE Flare - 7/16" JIC


Related Products:
There are no items in your shopping cart