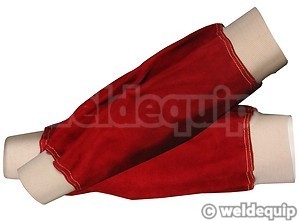 Leather Sleeves
Protective leather sleeves
18" long
Kevlar stitched
Fast, low cost delivery
Heat resistant red leather sleeves to protect your arms when welding. Kevlar stitched elasticated cuffs for universal fitting.
Essential welding attire, particularly in the summer months if working in a T-Shirt!

Welding not only generates heat and sparks but also UV and IR radiation, so it is critical to ensure that all exposed skin is protected with suitable protective clothing.
There are no items in your shopping cart