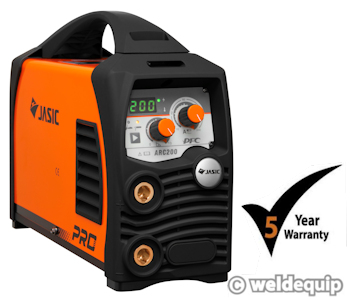 Jasic PRO ARC 200 Inverter Arc Welder
10 - 200 Amp DC Inverter MMA Welder
230v Single Phase
Lift-Arc TIG Facility
Complete with high quality 5 metre lead set
5 Year Warranty
£ 362 (inc VAT)
Super portable (5.2Kg), powerful 200 Amp DC Inverter MMA welder suitable for more demanding Arc welding tasks from a 230v single phase supply.
Lift –TIG facility with the addition of the optional TIG Kit & Argon gas supply. Duty Cycles are measured at a full 40C.
Build quality, component quality and performance are excellent; supported by the best warranty in the business from Wilkinson Star.
Key Features
40 Khz IGBT Inverter technology for greatly reduced size, weight & efficiency
Hot-Start, Anti-Stick and self adaptive Arc-Force for reliable, stable arc even with long extension leads
VRD and auto-compensation for voltage fluctuation
Advanced single PCB construction for easy testing & servicing
Industry leading 5 Year Warranty Cover & support from Wilkinson Star
Supplied With
High quality 5 Metre Lead Set; Super flexible HO1N2 cable fitted with ESAB 200 amp electrode holder, 400 amp earth clamp, 35-50mm dinse plugs
5 year warranty cover
Technical Specification
Supply Voltage: 230v
Output Range: 10A – 200A
Duty Cycle @ 40C:
MMA 35% @200 Amps, 60% @142 Amps, 100% @110 Amps
TIG 40% @200 Amps, 60% @163 Amps, 100% @126 Amps
Dimensions: 351mmL x 130mm W x 250mm H
Weight (machine only): 5.2Kg
Protection/Insulation Class: IP21/F
Standards of Conformance : ALL
Warranty: 5 Years