We are currently closed for the February Half-Term and will be accepting orders again from Monday 18th Feb.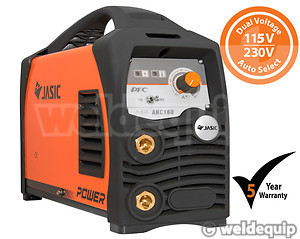 Jasic POWER ARC 160 PFC Inverter Arc Welder
10 – 160 Amp DC Inverter MMA Welder
Dual Voltage 230v/110v with Auto-Select
PFC – Power Factor Correction
Lift-Arc TIG Facility
Complete with Site Case & MMA Lead Set
5 Year Warranty
£ 318 (inc VAT)

Jasic POWER ARC 160 PFC Inverter Package
£318
(inc VAT)
The UK's best selling range of Inverter Welding Systems from Wilkinson Star Ltd. Exceptionally keenly priced - without compromising on component specification - all feature advanced design, excellent build quality, and professional level features & performance. Fully supported throughout the UK & Ireland with an industry beating 5 Year Warranty & component level repair facilities in Manchester.
A very compact & portable (6.4Kg) Dual Voltage MMA Inverter for site or shop use. 160 Amps from 230v mains supplies and 125 Amps from 110v site supplies, so will run up to 4.0mm electrodes. Power Factor Correction – PFC – for energy efficient service. Duty Cycles are measured at a full 40C. It can be run from Generators and used for Lift-Start TIG with the addition of the optional TIG Kit & Argon gas supply.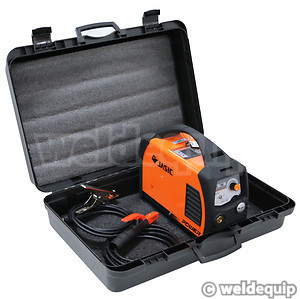 Key Features
Dual Voltage 110/230v with Auto-Select
PFC – Power Factor Correction – Energy saving
Hot-Start, Anti-Stick and self adaptive Arc-Force for reliable, stable arc even with long extension leads
VRD and auto-compensation for voltage fluctuation
Advanced single PCB construction for easy testing & servicing
Industry leading 5 Year Warranty Cover & support from Wilkinson Star
Supplied With
3 Metre MMA Leads, Site Case
5 year warranty cover
Technical Specification
Supply Voltage: 230v or 110v (auto-switching)
Output Range: 10A – 160A on 230v, 10A – 125A on 115v
Duty Cycle @ 40C: 35% @ 160 Amps from 230v, 35% @ 125 Amps from 110v
Dimensions: 365mmL x 135mm W x 280mm H
Weight (machine only): 6.4Kg
Protection/Insulation Class: IP21/F
Standards of Conformance : ALL
Warranty: 5 Years