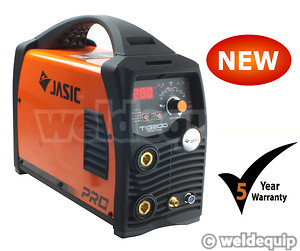 Jasic PRO TIG 200P AC/DC Mini Digital Inverter TIG Welder
200 Amp AC/DC TIG Inverter 230v Single Phase
Ultra compact & lightweight - just 9kg weight!
Fully loaded specification with Digital Control
Package including TIG Torch & Gas Regulator
Market leading 5 Year Parts & Labour Warranty
£ 1344 (inc VAT)

Jasic PRO TIG 200P AC/DC Mini Digital Inverter Package
£1344
(inc VAT)

Jasic PRO TIG 200P Mini Digital Foot Pedal
£235
(inc VAT)

Pro-Grip™ TIG Torch Upgrade WP17 12.5Ft
£85.65
(inc VAT)
For finer applications up to 150 Amp DC, 115 Amp AC. Fitted Amphenol plug for trigger

Pro-Grip™ TIG Torch Upgrade WP9 12.5Ft
£87.40
(inc VAT)
For very fine applications up to 125 Amp DC, 100 Amp AC. Fitted Amphenol plug for trigger
A 200 Amp 230v single phase AC/DC TIG weighing in at just 9 Kilos!
We have illustrated it next to an Auto-Darkening Headshield (not supplied) to show you how compact this set is. This is a real photograph and has not been 'photo-shopped' in any way!
Despite it's size & weight it is feature rich, very easy to set up and use with single dial adjustment & performs brilliantly.
Fully supported with Wilkinson Star's industry leading service centre and 5 year warranty.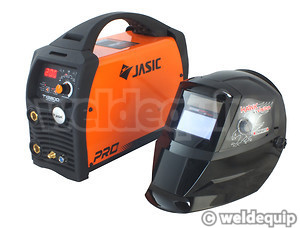 Key Features
Ultra compact & lightweight - just 9kg
Digitally controlled for superior arc performance
AC Square Wave TIG, AC Pulsed TIG, DC TIG, DC Pulsed TIG, MMA (Arc)
Adjustable AC Frequency Control 20Hz - 250Hz
Adjustable AC Balance Control 20-65%
AC Pulse TIG 0.2Hz - 200Hz
DC Pulse TIG 0.2Hz - 200Hz
Programme memory storage for fast job setting recall
Easy to use control panel with digital display & audible setting menu
Industry leading 5 Year Warranty Cover & support from Wilkinson Star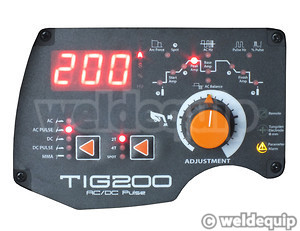 Supplied With
4 Metre WP26 TIG Torch Assembly fitted with power cable adaptor, quick fit gas connection, zipper cover & front-end parts.
3 Metre Earth Lead fitted with 200 amp earth clamp, 35-50mm dinse plug
Argon Gas Regulator 2 gauge
3 Metre Argon Gas Hose with quick release machine coupling
5 Year Parts & Labour warranty cover
Technical Specification
Supply Voltage: 230v
Input Fuse: 16A/30A @ Max
Output Range: 5A – 200A TIG, 10A – 160A on MMA
Duty Cycle @ 40C:
TIG 25% @ 200 Amps, 60% @ 129 Amps, 100% @ 100 Amps
MMA 30% @ 160 Amps, 60% @ 114 Amps, 100% @ 88 Amps
Dimensions: 435mm L x 160mm W x 340mm H
Weight (machine only): 9kg
Protection/Insulation Class: IP21S/B
Standards of Conformance : ALL
Warranty: 5 Years

There are no items in your shopping cart