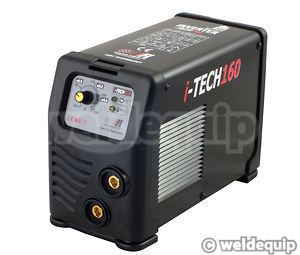 IFL i-TECH 160 Inverter Arc Welder
New model from Inverter Fusion Ltd
10-160 Amp DC 230v Single Phase
Ultra Compact & Lightweight - just 3.5kg!
Carry Case, Shoulder Strap & Leads included
24 Months Parts & Labour Warranty
Sorry, this product has sold out.
One of the smallest & lightest Inverters on the market; the size and weight of a power tool, with fully enclosed transportation case and 'use anywhere' 13 Amp supply capability.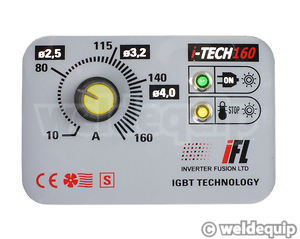 The latest design i-TECH 160 from Inverter Fusion Limited weighs just 3.5 kilos but still punches out 160 Amps power, so is capable of running up to a maximum 4.0mm electrode. It will lay down 2.5mm rods continuously (10 minute cycle) from a standard 13 Amp power supply, with a factory fitted 13 amp plug supplied.
A clear & simple control panel gives the correct amperage for rod diameter in use for dead easy set-up, with power on and over temperature indicators.
Built in Hot Start, Anti-Stick + Arc Force ensures easy electrode starts & re-starts without sticking.
Duty Cycles are equally impressive from this size of machine:- 30% @ 160 Amps maximum output, 60% @ 130 Amps and 100% @ 100 Amps - measured at 40C and not 25C as used on some similar models.
The steel case enclosure is protected from drops & knocks with impact resistant nylon front & rear mouldings.
The i-TECH160 can be operated from a Generator, providing a quality stable Generator of 6Kva + is used, and can also be used for basic Scratch-Start TIG welding with the addition of a suitable TIG torch & argon gas supply.
Fully supported with a 24 months parts & labour warranty from a leading brand.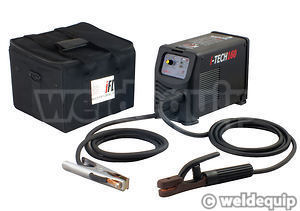 Supplied with
Compact holdall with shoulder strap housing the machine & leads
Machine Shoulder Strap
Factory fitted Leads with 200 Amp Earth Clamp & 200 Amp Electrode Holder
Technical Specification
Supply Voltage: 230v +/-15%
Fuse (Slow Blow): 13/16A (Above 150Amps on MMA 13Amp fuses may blow occasionally)
Generator Rating: 6kVA
Max OCV: 56V
Duty Cycle: 160 Amps @ 30%, 130 Amps @ 60%, 100 Amps @ 100% (10 Min.40°C)
Electrode Size: 1.6 - 3.2mm, 4.0mm Max
Size: 270mm length x 190mm high x 130mm wide
Weight (machine only): 3.5kg
Weight (inc carry case & leads): 6.4kg
Protection: IP21S
Warranty: 24 months parts & labour
Standards: BS EN 60974-1 CE RoHS WEEE compliant