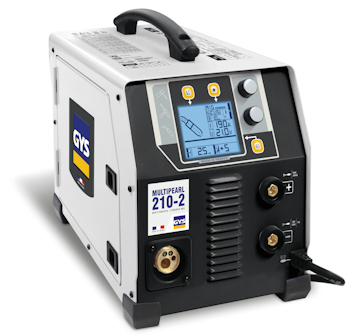 GYS MultiPearl 210.2/MultiPearl 210.4XL Multi-Process Synergic Inverter
20 - 200 Amps MIG, TIG & MMA with Synergic control
MIG Brazing programs
Flexible Voltage (FV) so will work from 230v mains or 110v site supplies
5kg or 15kg wire spool options. 2 roll or 4 roll wire drive options
Gas & Gas-less operation. Euro-Torch assembly
Perfect for shop or mobile use
Designed & manufactured in Europe with 2 year warranty package
From £ 1210 (inc VAT)
A Multi-Process Inverter system from GYS capable of MIG, TIG & MMA, with Synergic control for perfect welds - every time.
Suitable for running up to 5mm electrodes in MMA mode, with fully adjustable Hot Start & Arc Force; DC Lift TIG (with optional torch) with adjustable Downslope & Post Gas; Synergic MIG for Mild Steel, Stainless Steel, Aluminium & MIG Brazing - CuSi3, CuSi8, CuAl.
In Synergic MIG mode you simply select material: Mild Steel, Stainless Steel, Aluminium or MIG Brazing, wire diameter in use: 0.6mm, 0.8mm or 1.0mm, and material thickness. The Synergic processor then sets ideal weld parameters for perfect results on any given setting. You can manually 'trim' the settings or override Synergic mode completely and enter your own Voltage/Wire Speed settings (13V-25V, 0-12 m/min).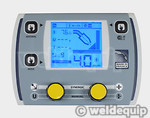 LCD Control Panel
A clear display for selecting weld process - MIG/MAG, MMA or TIG , with adjustable parameters; fully Synergic MIG or manual mode.
Automatically stores the last used settings.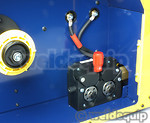 Wire Feed Options
The 210/2 model has a standard 2 roll wire feed system and will accept 5kg size wire spools, and the 210/4XL model has a 4x4 wire feed with 5 and full size 15kg wire spool capability. Both feed systems feature microprocessor control guaranteeing a constant feed, whatever stress is placed on the wire.
Flexible Voltage
Flexible Voltage (FV) technology enables the machine to operate from any voltage between 85V up to 265V, with auto-sensing, so it will operate from 110V site supplies or 230V mains supplies. Output is 200 Amps from a 230V supply (16 amps) and 150 Amps from 32 amp 110V supply. Integrated PFC (Power Factor Correction) enables it to work from long extension cables -up to 100 Metres - and power generators (9kVA required).
Runs gas-less, flux cored wires. Weighs just 12Kg (210.2 model) and 20Kg (210.4XL model).
Supplied With:
3 Metre Binzel MB15AK Euro-Torch Assembly
MMA (Arc) Lead
Quick-Fit Earth Lead Assembly (25mm Dinse plug)
0.6mm/0.8mm Drive Roll Kit
24 Months Parts & Labour Warranty Cover
Optional Shielding Gas Package (Industrial 2 gauge argon gas regulator, 4 metre gas pipe, machine & regulator fittings)
Specifications
Input Voltage: 85V– 265V
20 - 200 Amps MIG, 10 - 200 Amps TIG & MMA from 230v
20 - 150 Amps MIG, 10 - 180 Amps TIG, 10 - 130 Amps MMA from 110v
Amperage @ 60% Duty Cycle: 120 Amps 230v - 110 Amps from 110V
Amperage @ 100% Duty Cycle: 90 Amps 230v – 80 Amps from 110V
Wire Spool Sizes 210/2: 0.7kg – 5kg
Wire Spool Sizes 210/4XL: 5kg – 15kg
Wire Diameters: 0.6mm, 0.8mm, 1.0mm (with optional feed roller)
Power Settings: Fully Synergic
Turbo Fan Cooled, Twin Fan on 210.4XL model
Weight (Excluding Wire): 210.2 Model: 12kg - 210.4XL Model: 20kg
Warranty: 24 Months Parts & Labour
Further information can be found on the GYS website: See 210.2 and 210.4XL
There are no items in your shopping cart