We are currently closed for the February Half-Term and will be accepting orders again from Monday 18th Feb.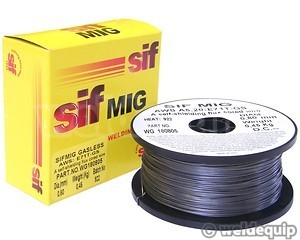 Gasless MIG Welding Wire
Premium brand gasless mild steel wire from Sifbronze
0.45kg mini-spool 0.8mm diameter
Gasless mild steel MIG wire from Sifbronze.
SifMig Gasless is an excellent quality self-shielding wire that feeds reliably and gives consistent results.
The 100mm spool diameter with 15mm hole centre will fit most types of hobby MIG machine.
AWS: E71T-GS

Gasless wire runs on a different polarity than standard, gas-shielded wire so can only be used on machines with a polarity reversal feature (set to torch negative).
Self-shielding gasless wire produces considerably more fumes than standard wires so ensure adequate ventilation and welding fume protection.