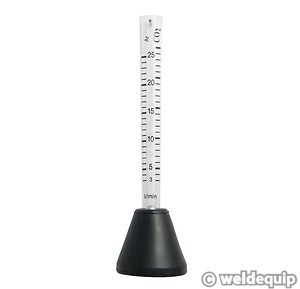 Gas Flow Tester
Accurately check gas flow from the torch
Suitable for both MIG & TIG
Without any kind of gas flow indicators on your gas regulator (output pressure gauge or flowmeter) you are working blind when it comes to accurate gas flow setting.
This handy little device allows you to accurately set gas flow directly from the torch, without having to replace regulator equipment.
You simply place the Gas Flow Tester over the end of your MIG/TIG torch, press the welding torch trigger and adjust your gas regulator until you get the required flow rate shown in the calibrated tube.

There are no items in your shopping cart